Tiger Stories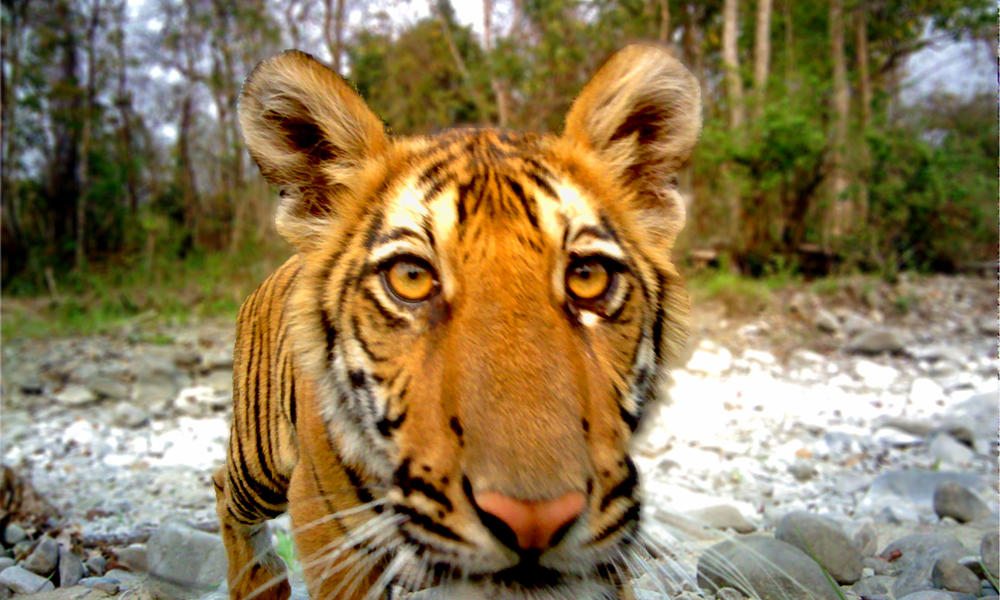 In less than a decade, Bhutan's Royal Manas National Park has achieved a big win for tiger conservation. From only 10 tigers in 2010, its population has now grown to 22. With a global population of as few as 3,890 wild tigers, every population increase matters. And it marks a significant step towards achieving the goal of doubling the world's wild tigers.
WWF Magazine: Winter 2013

October 01, 2013

Abeng, coordinator of WWF's Tiger Protection Units in Indonesia, has lived on the island of Sumatra his whole life. He leads our efforts to protect last wild tigers in Tesso Nilo-Bukit TigapuluhBukit Tigapuluh, or "30 Hills."

September 26, 2013

On Sept. 26, thousands of miles from the nearest herd of wild elephants in the jungle of New York City, several unprecedented commitments were made to change the trajectory at two high-level events.

September 12, 2013

Every minute on the Indonesian island of Sumatra, five football fields of rain forest are cleared for timber and replaced with pulpwood, rubber and palm oil plantations.

July 29, 2013

Nepal's government announced its tiger population in had increased to 63 percent since the last survey in 2009—putting the number of tigers at an estimated 198 with a range between 163-235.

April 18, 2013

Large-scale illegal logging in the Russian Far East is threatening the long-term survival of the endangered Amur tiger by destroying the species' habitat. Around 450 Amur tigers remain the wild, scientists estimate.

March 26, 2013

India, home to the world's largest population of wild tigers, created a new protected area for the big cats. The Indian government declared the forests of Sathyamangalam Wildlife Sanctuary a Tiger Reserve on March 15, 2013.

March 07, 2013

The skin, bones, teeth, claws and skulls of more than 1,400 tigers were confiscated between 2000 and 2012, according to a new report. With wild tiger numbers at an all-time low, the report stresses the crisis of wildlife crime.

January 14, 2013

Now available for free in the iTunes App Store, 'WWF Together' is a unique interactive experience that brings you closer to the stories of elephants, whales, rhinos and other fascinating species. Discover the animal's lives and the work of WWF in a way you've never seen before. Try out "tiger vision," stay as still as the polar bear during a hunt, and chop the panda's bamboo.

December 12, 2012

A new report on the crisis of illegal wildlife trafficking details its unprecedented scale and global implications. Current global efforts to fight illegal wildlife trade are failing because wildlife crime is seen as an environmental problem first and then a criminal issue. At the same time, organized crime syndicates and rebel groups involved with wildlife crimes are increasing. Profits from wildlife trafficking could be used to purchase weapons, finance civil conflicts and underwrite terrorist-related activities.

November 08, 2012

WWF's campaign to stop wildlife crime gained a powerful champion—U.S. Secretary of State Hillary Clinton. On November 8, the U.S. State Department held an unprecedented event on illegal wildlife trafficking and conservation. In her remarks, Secretary Clinton called for an end to illicit wildlife trafficking, which she emphasized as a major foreign policy and security issue.

November 07, 2012

Crawford Allan, Regional Director, TRAFFIC North America, has translated his passion for the natural world into a long and fulfilling career. While he has seen the impact of illegal killing of rare species first hand and uncovered illicit wildlife trade in blackmarkets in dozens of countries, he remains hopeful.

October 22, 2012

On October 18, 2012, Russia established the "Sredneussuriisky" Wildlife Refuge—covering nearly 180,000 acres—which will allow Amur tigers access between Russia's Sikhote-Alin mountains and the Wandashan mountains in China.

Rare new footage shows a tigress and her cubs inside the forests of Thailand's Mae Wong National Park. But along with this thrilling video comes news of a possible irreversible threat—a $400 million dam proposed on the nearby Mae Wong River.

August 09, 2012

Camera traps identify a greater number of tigers in the region.

When governments set up conservation areas that protect and connect nature, wildlife begins to thrive and so do people.